Sad news today. After their building was sold, Stile's Farmers Market are being forced to close their long-​time location on the corner of W 41st St & 9th Ave at the end of the month, as reported by DNAinfo. For the uninitiated, per their article:
Stile's Farmers Market began in 1987, when Steve Stile's father, Joseph, set up an umbrella, a cigar box and a table full of produce at the spot. It's since grown into one of the neighborhood's most popular markets.
The news came in the form of this huge sign posted out the front of the store: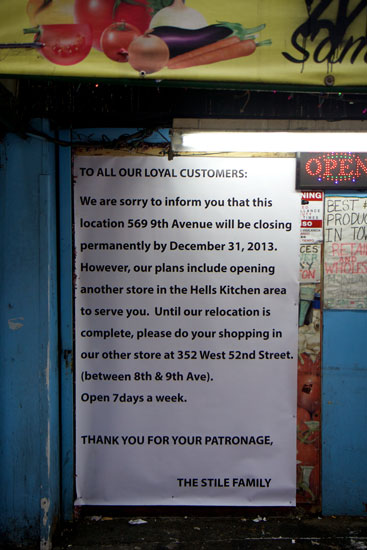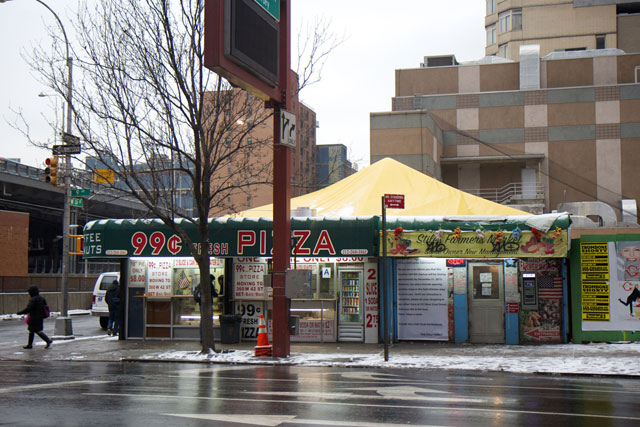 The neighboring pizza place (my favorite $1 slice in the area at the moment) will also be moving, and they've already got a location: 360 W 42nd – halfway between 8th & 9th.
Fortunately, this isn't the end for Stile's: they're already looking at replacement locations, including one a few streets down at 37th & 9th, so hopefully they'll be able to find a new location soon. Former neighbor the Big Apple Meat Market was forced to move last year, and seem to be going strong in their new "temporary" location. Hopefully the same happens for Stile's.
That whole block is going to be changing in the next few years, with a giant 38-​story hotel (the "Times Square Hotel") going up eventually next to it, which Hell's YEAH covered at the start of this year. The farmers market/​pizza combo building wasn't part of that development though, so we'd hoped they'd be spared. Clearly, another set of developers have other plans.
Anyway, while all this is going on, the other outpost of Stile's is fortunately still up and running on 52nd St: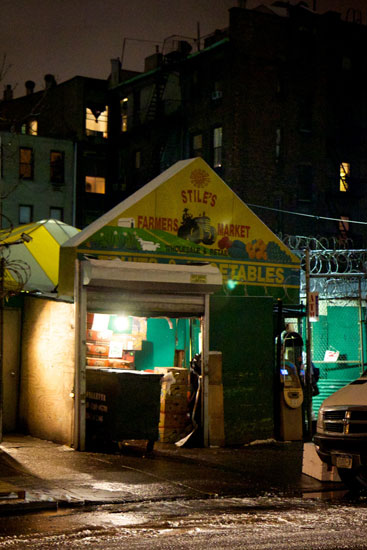 Still, sad to see the original spot closing. There's some fond memories of the place being left on Jeremiah's Vanishing New York's post about the news. We'll be looking forward to the spot's reopening (hopefully) soon.