Broadway Joe, a long-​time Restaurant Row establishment, has closed its doors after 65 years. The steakhouse opened way back in 1949, named after its owner Joe Moreno. In recent times, the place seemed to be having a hard time living up to its customers' expectations, as its 2½ star rating on the-​one-​true-​metric-​for-​success Yelp suggests. Broadway Joe had a lot of history though, and over the years a number of movies filmed scenes at the place. For example, you can see part of the scene in this trailer for the 1959 movie FBI Story.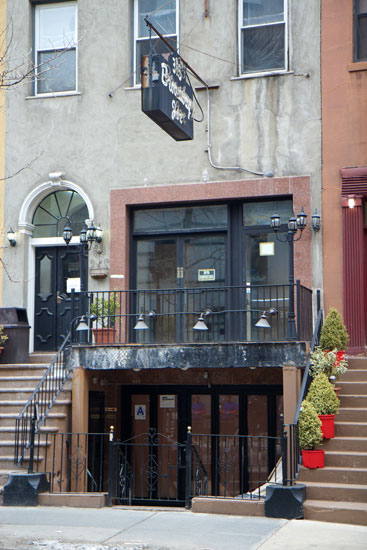 Broadway Joe has been closed for a few weeks now, so we already have news of the new tenant. As reported by DNAinfo, an ex-​NYPD officer is planning to open a police-​themed bar at the location, complete with its own jail cell.
Retired police officer of 27 years Stephen Barounis missed his old job so much, he decided to open a police-​themed bar in Midtown called The 46th Street Stationhouse — complete with a police car, a precinct desk, a jail cell and a commissioner's room.
It sounds like they're going all-​out on the immersive experience:
"I can bring you in in handcuffs and you'll actually think you're in a precinct," said Barounis, who served on the NYPD's Bronx Task Force before he retired in 2011.
Head over to DNAinfo for more info about the new place, including how they plan to get an entire car inside the restaurant.
It's been a rough few months for Restaurant Row. A few months ago, just across the road O'Flaherty's closed down, and in December a fire at Barbetta caused them to close, however fortunately they recovered and reopened. Hopefully the planned "makeover" for the street doesn't end up pricing any more long-​time places out. We'd hate to end up with the street just being called "Row"…