Over at Scouting New York, they've had a look at the history behind the towering Network sign above Vynl, at 51st & 9th: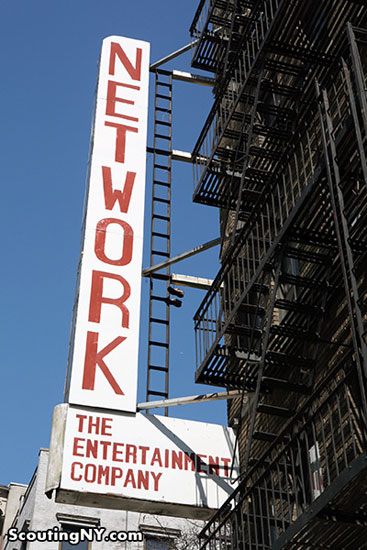 Many people have written about it over the years, but no one seems to know what it was. I've always imagined it to be an old-​timey talent agency – aspiring actors rubbing elbows with amateur singers and vaudeville-​esque performers in a cramped waiting room, all hoping to become part of The Network, the greatest collection of stars in the world!

Alas, the truth is somewhat less exciting.
Head over to the article to find out the whole story. Be sure to read the comments for some interesting memories from long-​time residents.
On that, you might also notice part of the previous signage peeking through the side: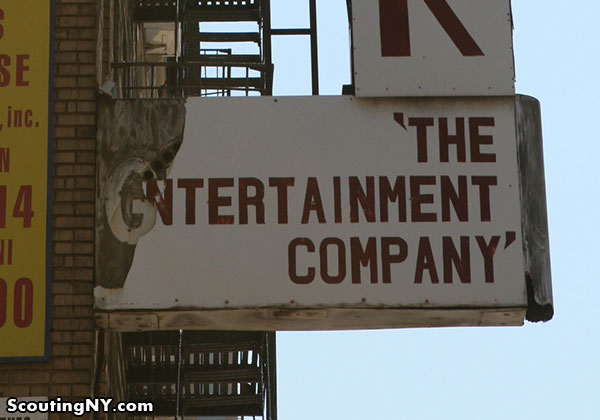 Commenter John has the story on that:
I live in the neighborhood in question where this sign is and been here 49 years and if my memory is correct Grossman's furniture was at that location, I remember my parents buying furniture there. (I am hoping I am correct, fuzzy memory from when I was a kid)
More memories, from commenter Barbara:
That was Grossmans furniture store. Most ppl in the neighborhood bought from them; you could pay the furniture off if he knew you & knew he'd get paid. I furnished my first apartment with his stuff back in 1974. His stuff wasn't top of the line but good enough. In fact I still have night tables, a tall chest and a wooden rocker that I bought from him (the rocker was a gift from my grandmother).
So now you know!