We've been watching the now-​former home of Go Sushi for over half a year now, when we first heard whispers next-​door neighbor Vynl was planning to take the space over. Initially, we'd thought they'd just be moving into the bigger, better corner location, but applications filed for this month's community board meetings reveal they're actually opening a whole new place.
B-​Side will be a "coffee bar/​pizza bar" according to plans filed, and is being opened by John Dempsey, the same man behind Vynl (obviously), and El Centro a few streets up 9th Ave, along with a number of other spots across the city.
Here's the place at the moment. Plywood everywhere.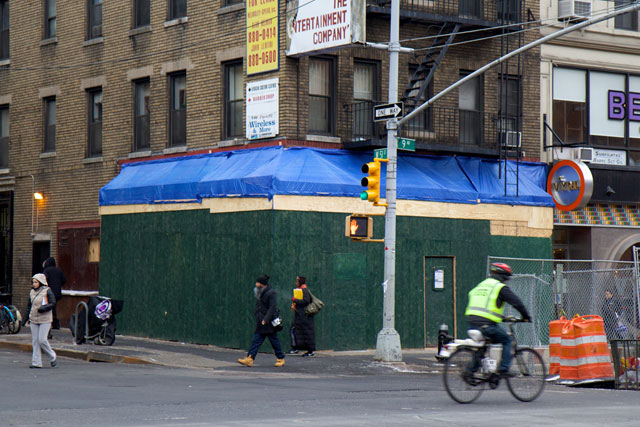 It's been a very long process for this new place. The first signs came back in June, then after months of silence Go Sushi abruptly closed in October. The construction paper went up on the windows almost immediately, then a month later the plywood came up. Now, with the dazzling green paint job on the plywood, we've got the next chapter. We'll look forward to the big reveal in the coming months.